This fabric is great. You may think you don't know what it is, but you do. Start looking around and you will see it everywhere. In fact, every time I see it on someone, I ask if they made the item themselves. Most of the time they didn't...I have to remind myself that not everyone is as
cheap
crazy
creative as I am.
I first heard about ruffle fabric on
Make-It and Love-It.
I had to try it. I bought some from
www.rufflefabric.com
. They have so many different patterns. I love how soft and stretchy this fabric is. The dresses are so cute on the girls.
For the dresses, I sewed a tube and then folded over the top to make an elastic casing. The sleeves are just 2 rows of ruffles sewed to the dress. The great thing about this fabric is that it doesn't fray so if you cut below a ruffle, you don't have to hem it because no one is ever going to see it.
I also made myself a skirt which was so easy. I just gathered it a little at the top and then sewed it to some thick elastic. This is the most comfortable skirt I have and I wore it almost every week. One thing to note is how the ruffles lay. The width of the fabric was just enough to make a skirt for me.
I definitely need to make another one for the fall/winter. What pattern do you think?
Smoke
Black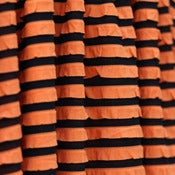 Halloween